Danny Varona, Jay Kipp, and Enrico Pozzo proudly present this summary of the Seattle houseboat (floating home) real estate market. This in-depth analysis provides data, insights, and reflections on recent market trends that could economically impact the floating home buying and selling process.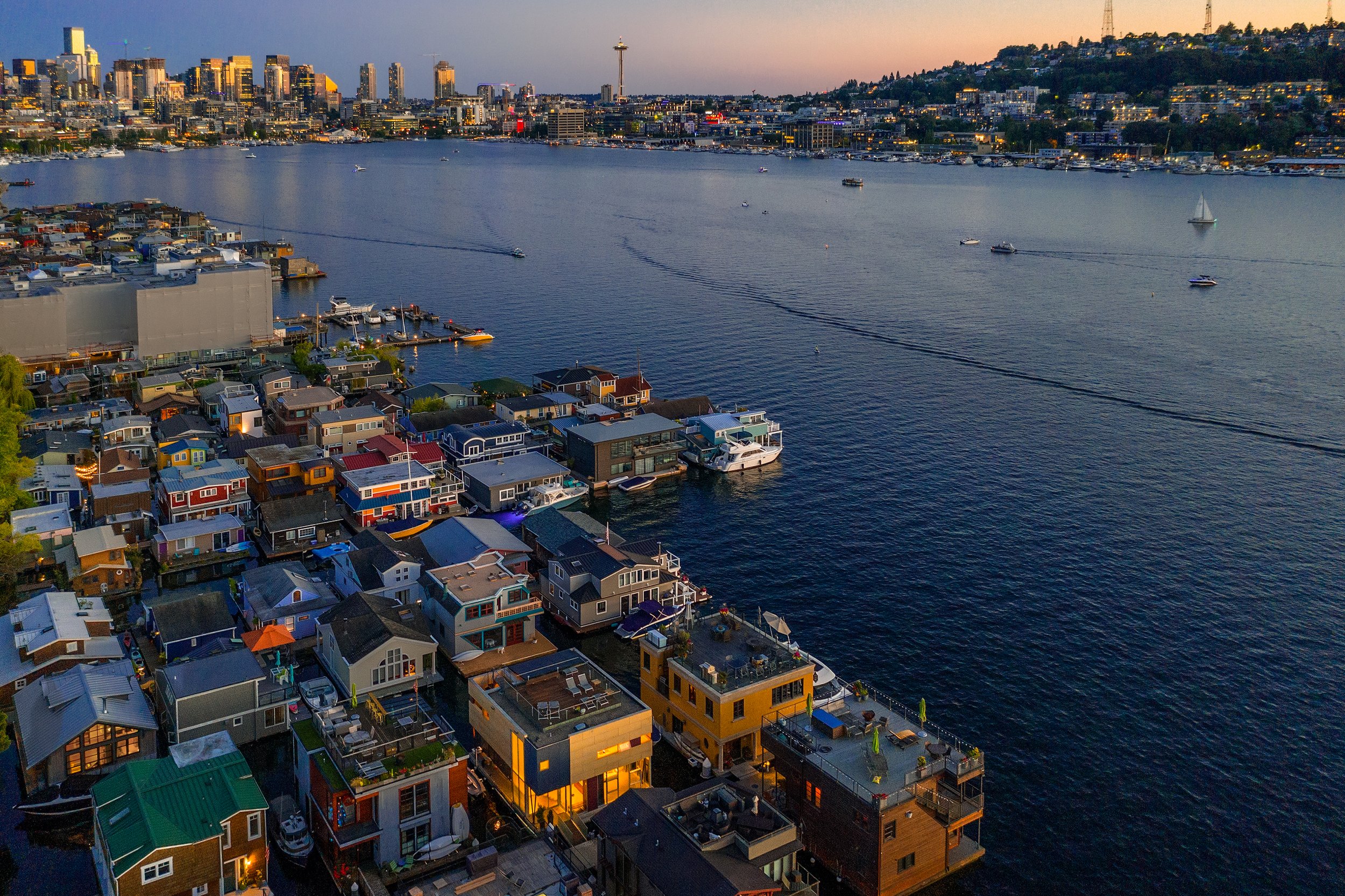 Overview
2020 marked another excellent year for the floating home & houseboat real estate market in Seattle. At the onset of the Pandemic, many feared that the Seattle floating home and houseboat market would suffer the same fate as the Seattle condominium market. However, the Seattle houseboat market thrived with record-breaking sales mirroring the strong single-family home market across Puget Sound. A record number of floating homes were listed and sold this year in Seattle. In fact, 33 Seattle floating homes changed hands in 2020, a 65% increase over 2019 when only 20 Seattle floating homes sold*.
Buyers often ask us if houseboats appreciate and if they are a good investment. Yes, they do, in fact, Seattle's floating homes appreciated at a record rate of 12%, resulting in an average sales price of $1,605,000 in 2020 compared to $1,433,000 in 2019. Likewise, a price-per-square-foot analysis also showed that Seattle floating home owners enjoyed an 8.1% year-over-year appreciation ($1214/sq. ft. in 2020 vs. $1122/sq. ft. in 2019).
Despite the record number offered for sale in 2020, floating homes in Seattle sold significantly faster than in previous years. For instance, compared to 2019's 80 Days on Market (average), in 2020 floating homes in Seattle sold after only 68 Days on Market (on average). However, some floating homes in Seattle sold as quickly as in a week, while several others took longer than 150 days to sell. Properly pricing and marketing floating homes in Seattle are still the most important factors to successfully sell a floating home quickly and for the highest amount.
* There are 4 types of "houseboats" in Seattle. This analysis is exclusive to Floating Homes and it does not include the other 3 types (Floating on Water Residences (FOWRs), Registered Barges, and Vessels with Dwelling Units (VDU)). See this blog post to learn more about the difference between the 4 types of houseboats in Seattle.
A New High-Water Mark
In 2020, four floating homes in Seattle sold above the previous record of $3,575,000, set in 2018 by 1214 E Hamlin St #7. The highest sale ($4,500,000) was achieved by floating home #H at the Lake Union Co-op (2031 Fairview Ave E) in a quiet, off-market sale. This stunning NW Contemporary Seattle floating home is sited on a rare, double-sided slip at the end of the dock and boasts the most waterfrontage of any Seattle floating home.
The Fairview Landing dock (2369 Fairview Ave E) is home to two of the four record-breaking prices including our own listing (floating home #6) which sold for $3,725,000. The fourth record-breaking sale was the iconic Mediterranean-inspired home at The Log Foundation dock, which our client acquired for $3,750,000.
A price-per-square-foot analysis also revealed a record-breaking year for Seattle's beloved houseboats. In fact, three Seattle floating homes in 2020 sold above the previous record of $1818/sq. ft. set in 2015 by 2821 Fairview Ave E #9. Two of these three floating homes were on one of the most desired locations on Seattle's Lake Union: the Log Foundation's south dock, with unobstructed views of downtown Seattle and the Space Needle.
Location, Location, Location
The floating home market is one of Seattle's most vibrant niche markets and, just like the single-family home market, a floating home's neighborhood (i.e., Eastlake, Portage Bay, Westlake, Fremont) is a fundamental element of value. In 2020, floating homes on Eastlake continued to enjoy a premium sales price over homes in the other three communities. For example, floating homes on Eastlake sold for an average of 72% more than floating homes in Portage Bay ($1,908,000 vs. $1,107,000 average sales price). On a price-per-square-foot basis, a similar pattern emerged. Eastlake floating homes sold for 33% higher (on average) than Portage Bay floating homes ($1,344/sq. ft. vs. $1,011/sq. ft.).
Moreover, Eastlake floating homes sold 3.4 times faster (on average) than Portage Bay floating homes (34 vs. 116 Cumulative Days On Market). No analysis is provided for floating homes in Fremont and Westlake as there were too few sales in those Seattle neighborhoods to adequately compare. All four neighborhoods provide exceptional opportunities to enjoy life on the lake.
The Value of a View
Seattle houseboats with favorable dock locations sold for a premium. End-of-dock floating homes with unobstructed views sold for twice as much as floating homes towards the middle of the dock with partial views or no views ($2,650,000 vs. $1,319,000 average sales price). A price-per-square-foot analysis paints a similar picture with end-of-dock floating homes selling for 75% more (on average) than middle-of-the dock floating homes ($1829/sq. ft. vs. $1046/sq. ft.). Moreover, end-of-dock floating homes sold in only 11 days (on average)*, compared to 69 days for floating homes located in the middle of the dock or next to shore. Buyers also paid a 30% premium for floating homes towards the middle of the dock compared to floating homes next to shore ($1,319,000 vs. $1,012,000 average selling price).
* Excludes one outlier (2816 Boyer Ave E #B)
The Ownership Effect
Whether a Seattle houseboat moored in a leased or owned slip continued to have a significant impact on its 2020 sales price and ease of selling. Floating homes with leased moorage sold for an average price of $530,000 compared to $1,712,000 for floating homes with owned moorage (co-op or condo). A price-per-square-foot and days-on-market analysis confirmed this trend. Floating homes in Seattle with leased moorage sold for an average of $566/sq. ft., compared to $1,279/sq. ft. for floating homes in co-op or condo slips. Moreover, floating homes on leased moorage took twice as long to sell (on average) than floating homes in a condo and co-op docks (118 days vs. 62 days).
in Seattle, floating homes in condo docks sold for more than homes in co-op docks, but this finding has less to do with the type of ownership and more to do with the underlying size, age, and condition of those condo-owned floating homes. Seattle's condo houseboat docks are overrepresented by the luxury communities of Roanoke Reef, Wards Cove & Fairview Landing, with significantly larger and newer homes. In fact, we found no significant difference between co-op and condo moorage when comparing key data such as Price per Square Foot and Days on Market.
Mortgages & Cash Analysis
33% of all floating home buyers in Seattle paid in cash, while the other 67% financed their purchase. This is in line with data from 2019, which shows that only 30% of all floating home sales were cash transactions. Further analysis revealed that all four sales in 2020 over $2.8M were cash purchases. This was expected due to the maximum possible loan amount approaching $2.2M with a 25% down payment with most floating home lenders.
Given the high percentage of financed floating home purchases under the $2.8M threshold in Seattle, it is important that sellers address inspection and appraisal issues before listing to avoid costly negotiations and closing delays when a buyer is identified. For example, floating home lenders such as Seattle Credit Union cannot issue mortgages to buyers of floating homes with Styrofoam (an outdated method of flotation due to its propensity to become saturated and lose buoyancy).
A Commanding Market Share
Realogics Sotheby's International Realty has represented the seller or buyer in 6 of the top 10 floating home sales ever sold in Seattle. Our 2020 listings in Seattle include:
2021 Outlook
While predicting the future with certainty is difficult, early signs show that 2021 will bring another strong market for houseboats in Seattle. We expect buyer demand for homes on or by the water to continue in 2021. Floating homes will continue to appeal to a larger pool of Seattle buyers due to the relaxed work-from-home policies which allow them to be more geographically flexible. Due to the pandemic travel restrictions, we expect buyers in Seattle to continue acquiring second homes they can escape to. We expect the same buyer profile to continue driving the demand for the high-end floating homes: Boomers, Tech executives relocating to Seattle seeking a condo alternative, and DINK (Dual Income, No Kids) families seeking a lifestyle home, among others.
More than ever before, we advise ignoring Zestimate and other automated price estimators as they use data from the declining condominium market to estimate the value of floating homes. If you are considering selling your Seattle floating home this year, we welcome the opportunity to present you with a custom listing and marketing plan.
2020 Floating Homes Sales in Seattle
All listing data was gathered from the NWMLS, except for the sale data of 2031 Fairview Ave E #H, a private off-market sale not reported to the MLS as no licensed brokers represented the seller or buyer.
Call today if you're considering a move, it's an important call to make
Danny Varona, Jay Kipp, and Enrico Pozzo represent the Sotheby's International Realty brand with 20+ years of experience representing more than 100 clients who purchased and sold houseboats in Seattle. The trio focuses on Seattle's finest floating homes and they are honored to have represented the seller or buyer in 6 of the 10 most significant floating homes ever sold in Seattle. Their affiliation with Sotheby's International Realty – the largest luxury brand worldwide – allows them to market floating homes locally and globally, with an unrivaled presentation that has earned over 130 marketing and sales awards.
Danny, Jay, and Enrico regularly appear in the media for their work in the floating home community, most recently being featured in The Wall Street Journal, The New York Times, Mansion Global, King5 News, Yahoo Finance, and the Puget Sound Business Journal. Danny and Enrico became enamored with the unique lifestyle after living on floating homes on Lake Union. Danny lived on a houseboat on Westlake for several years and Enrico lived on a floating home at the Log Foundation dock for 10 years. Jay has served as a Founding Director of Realogics Sotheby's International Realty in Seattle since 2014.